New Customer
Register Account
By creating an account you will be able to shop faster, be up to date on an order's status, and keep track of the orders you have previously made.
Continue
Returning Customer
I am a returning customer
Browser Notice
We are experiencing compatibility issues between Google Chrome and OpenCart. We do not have a resolution yet. Please use Mozilla Firefox, Microsoft Internet Explorer or Edge, or Apple Safari instead. We will post a follow up once we have resolved the issue.
Order Confirmaton Notice
Please ensure that your order is placed and paid for by 1.00 pm on the day prior to the delivery date. Orders for Mondays should be placed and paid for by 2.00 pm on the preceding Friday. Orders placed and paid for after the deadline will be scheduled for the next delivery date in your area. Please ensure that you are familiar with the current schedule.
Stock Status Notice
We do not keep stock of every item we sell. For this reason, we use STOCK STATUS notices on the products listed in our catalogue.
Stock status can be:
In Stock
Out of Stock
2-3 Days
Pre-Order
Other than "Out of Stock", the remainder of these notices are used based on:
whether the item is an INVENTORY item - in other words, do we keep stock and have stock on hand;
whether the stock is in TRANSIT - which can either then indicate "2-3 Days" or "Pre-Order";
whether the item is not STOCKED.
When our stocked items are out of stock, and the stock is in transit, the item is set to either "2-3 Days" if we know the transport is almost here (we have a delivery date), or "Pre-Order" (if we have not received delivery date confirmation yet). If the stock is in transit, and we want to allow pet parents to order ahead of schedule, then the item is set to "Pre-Order".
Custom Herbal Blends, Remedies and custom Accessories will always be set to "Pre-Order". This indicate that there is a lead-time associated obtaining the item for you.
Delivery Fee Notice
Please ensure that you select the correct flat rate fee for your order.
Gauteng (Frozen Cuisine Mixed Orders for Delivery)
Gauteng Fee of R 100.00 (inclusive) irrespective of size of order
Outside Gauteng (Frozen Cuisine Mixed Orders for Delivery)
Ex-Gauteng Fee or R 200.00 (inclusive) irrespective of size of order, based on areas we are currently servicing. Please ensure that you familiarise yourself.
South Africa (Dry Stock, Supplements, Oils, Treats and others;- no frozen products)
In Gauteng, select the Gauteng Fee of R 100.00 (inclusive)
Outside Gauteng, select the Ex-Gauteng Fee of R 200.00 (inclusive)
Payment Notice
Please note our payment terms are Payment in Advance (PIA) and Payable on Receipt (POR) for stockists.
Credit Cards Supported
We currently support VISA and MASTERCARD credit card payments via PayGate.
Unfortunately you are not able to process payments for the following cards yet. If this changes we will let you know:
American Express
Diners Club
Discover Card
China UnionPay
Entrust Bank
Japan Credit Bureau
Fleet Cards
Petrol Cards
Electronic Funds Transfers (EFT)
Online Payment Process
When you select the PayGate online payment gateway, you are presented with the following webpage.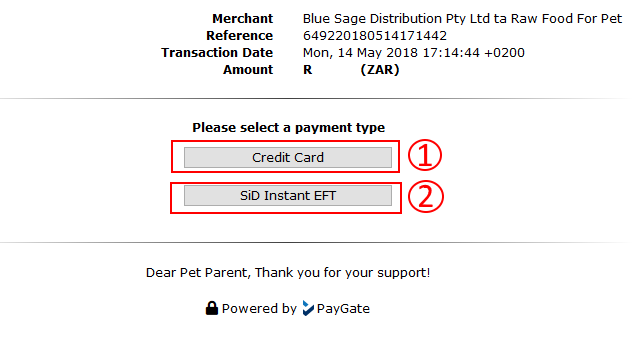 At this point, you can select to pay via Credit Card (Visa or MasterCard), or Instant EFT. Select the option you prefer, and the PayGate solution will complete the transaction on your behalf.
Upon successful authorisation of the transaction by your bank, you will receive a payment confirmation notice from PayGate that look similar to the picture below.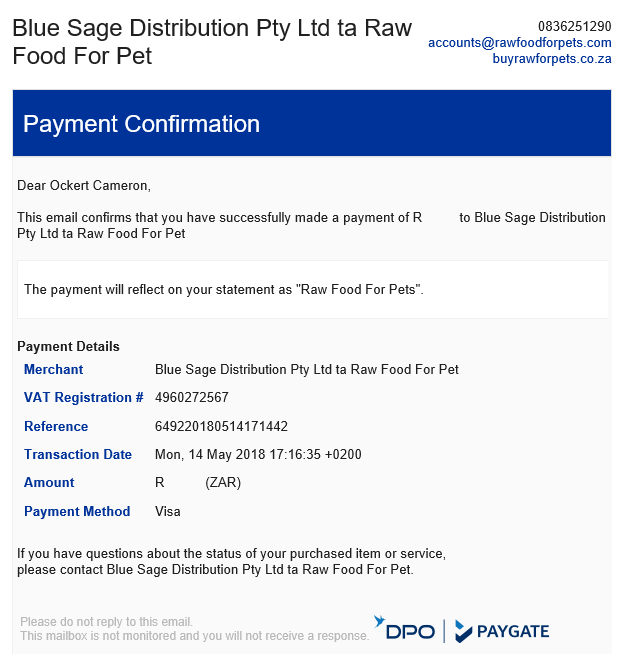 Order Status and Results
During the online order process and corresponding payment process, the following order status apply:
Initial Order Status: Pending. This means the transaction / order was committed in our portal, but the payment confirmation is still due. If you select manual EFT then this status will apply until we receive the Proof of Payment (POP) from you.
Successful Order Status: Processing. This means that payment authorisation has been received in our portal, and you should have received a notice from PayGate as confirmation. We will then approve your transaction, verify stock availability, and schedule your delivery.
Failed Order Status: Cancelled Reversal. If the payment authorisation fails for whatever reason, then we roll the order back. This is to ensure that we do not created duplicate orders. So, if for instance, you entered the incorrect credit card or account details (EFT) when processing the payment, and the transaction fail, then the cart transaction will be reversed as well.
Cancelled Order Status: Cancelled Reversal. If you abort the payment process, then the transaction will automatically roll back.
Delivery Notice
We can only deliver if you are able to ensure that someone is at the delivery address between 09h00 and 16h00 to receive your order - we simply cannot make individual arrangements, nor guarantee or specify delivery times. Please ensure that we have sufficient contact details available to ensure a smooth delivery.
Account Management
Customers often report a lost password and require assistance. Fear not, it happens to all of us at some point! Using the FORGOTTEN PASSWORD recovery process should always be your first step.
Step 1. Go to our Store Front login page. Either select the My Account option at the bottom of the page, or the little people icon at the top of the page. You will see a screen similar to the following: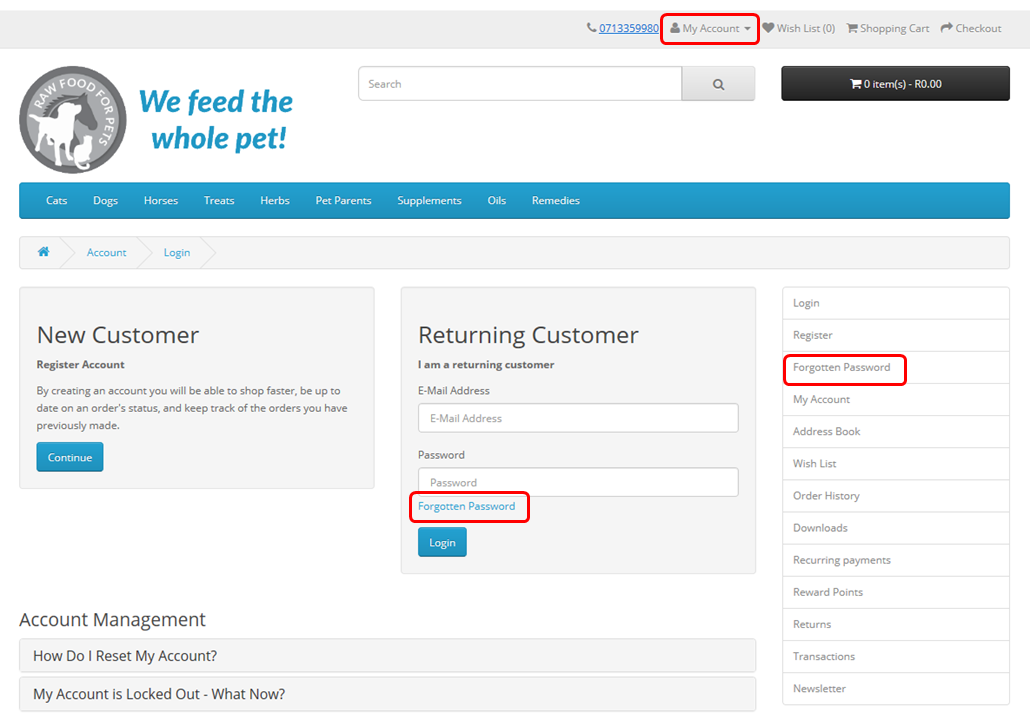 Note the FORGOTTEN PASSWORD link on the right column of the page. Click on the link to start the password recovery process.
Step 2. Clink on the FORGOTTEN PASSWORD link will show a screen similar to the following:
Click on the EMAIL ADDRESS field and type in your email address. An email will be sent with the current password.
Step 3. Make sure to confirm that the emailed password works by logging into the Store Front. Remember to reset or change your password.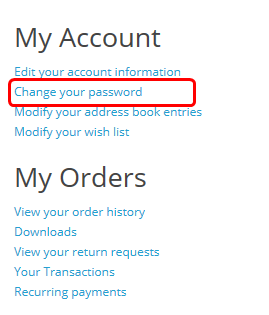 Security of your account relies on your password and you should practice good habits when dealing with passwords and accounts on the internet in general. This includes changing your passwords on a regular basis.
When you attempt to provide the wrong password for 3 times in a row, our system thinks that someone is trying to hack it. It will automatically then disable your account. This is a preventative action, so please do not take exception.
At the moment, we have configured the system to by default, after 1 HOUR has passed, UNLOCK your account again.
If, however, you require urgent access, please call us and we can manually unlock the account.
If the reason for this action is that you cannot remember which email and/or password you used during registration, please call us so that we can double check your details.
If you have a single email you use, and have forgotten your password, then please use the Reset (PASSWORD RECOVERY) procedure.
Order Management
Step 1. Navigate to the item you require, and select Add to Cart. Once you have added, you can review your cart before placing the order.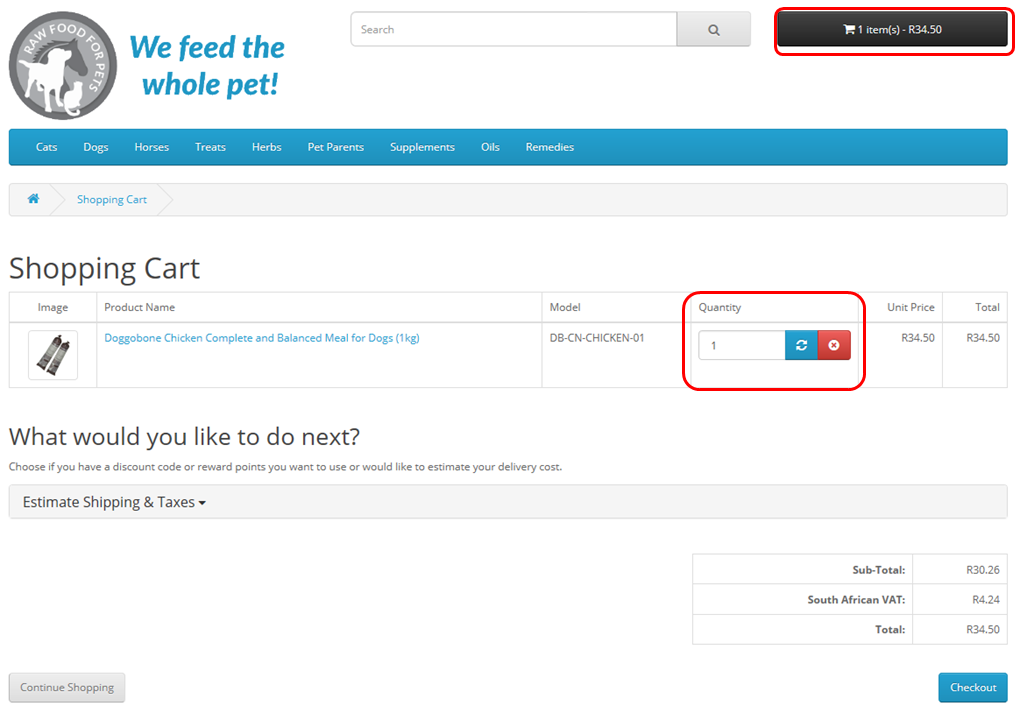 Step 2. Once you have updated the quantities you need, the next step is to select the SHIPPING option. Here you will have to confirm COUNTRY, PROVINCE and POSTAL CODE.

Step 3. Please confirm the details as requested by the screen.

Step 4. Please confirm whether we must deliver, or whether you will be collecting.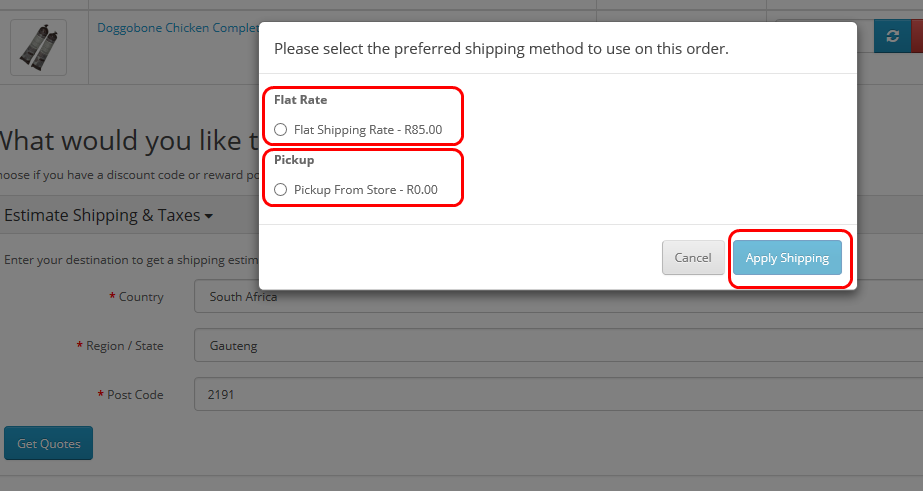 Step 5. You can now apply your selection, and then select the payment method (EFT), and submit your order for process. Once you have submitted, we will be notified via email that you have placed the order, and will then update the status of the order and we input it into our weekly planning schedule.
This typically is due to the item not having a stock count. With some browsers, a "undefined" error might occur. We apologise for this, we have not found a way to resolve this yet.
Once a product has been added to your cart, you can continue to the checkout to place the order with us. The Checkout page can be accessed in the header section of every page (found under the search box). A typical checkout can be completed in 6 steps.
Step 1: Checkout options
You must log into or register an account. Guest checkout has not been enabled.
Step 2: Billing details
Personal details including "First Name", "Last Name", "E-mail", and "Telephone" are filled into a form, if not done so previously. It also requires your address details.
Step 3: Delivery details
In Billing Details, the you can check a box to indicate that the delivery details and billing details are the same. This will cause it to skip over this step to Delivery Method. If the delivery details are different from the billing details, you can enter this information in a form in this section. You can also capture more than one address, say for instance sometimes we need to deliver to your office address, and sometimes to your home address. You can manage multiple delivery addresses through the Address Book feature.

Step 4: Delivery method
A method of shipping (delivery) is selected here. Currently, we only support a home (or work) direct delivery, or you can collect from us.
Step 5: Payment method.
You select the method of payment here and may add comments in the comment box.
Step 6: Confirm order
In this last step, the you will see an overview of your order; including the product description, quantity, and price (with tax & shipping).
Easy as one, two, three paws ...