NutriScan® Food Intolerance Diagnostic Test
Pet Sensitivity and Intolerance Test
Developed by [Dr Jean Dodds] (DVM), NutriScan is the only clinically predictable diagnostic test for dogs, cats and horses (new) to identify the commonly seen food intolerances and sensitivities in saliva. It is not a test for the rarely seen true allergies to foods. The NutriScan test is patent protected in the United States and internationally. We believe that Healthy pets = happy pet parents, and therefore are partnering with leading experts in the industry, local and globally, to bring remote consulting and diagnostic services to your doorstep.
This test measures antibodies to certain foods in dog saliva. High antibody levels indicate that the dog has a food sensitivity and intolerance to that food or foods. It is not a DNA test or a cheek / gum swab test.
By contrast, cheek or gum swabs alone do not generate sufficient biological fluid to quantitatively determine specific food reactivities. Simple positive or negative results, for instance from tissue swabs, do not provide information about the specificity or sensitivity of the assays used. Therefore, selection of foods based upon this type of information is medically and scientifically unreliable.
The NutriScan test measures the levels of IgA and IgM antibodies in the saliva. These antibodies are produced by the body in order to fight food sensitivities, so they offer the perfect measure of a reaction taking place. In fact, a food intolerance can lead to one of these antibodies showing up in the saliva as early as five months before bowel disease shows clinical symptoms. And, sometimes these antibodies can show up in the saliva without even appearing in the blood.
What is Tested?
Protein
Source
Protein
Source






















How Does the Test Work?
Testing with saliva is more sensitive than traditional blood testing because blood tests look for food allergies, which are actually rare. Most pets (and people) suffer instead with food sensitivities and intolerances, which are a different kind of problem from a true food allergy.
As opposed to food elimination diets that can take weeks and even months to attempt to figure out the offending food or foods, NutriScan requires only that a small piece of cotton rope (provided in a kit) be inserted in your pet's mouth for a couple of minutes. After the kit is submitted by you or your vet's office, you'll have the results back in only weeks.
Additional Information:
View a sample report here (requires Adobe PDF Reader).
How to Order?
Select your kit (canine or feline) in the online store. Upon receipt of payment, we will ship the NutriScan kit to anywhere in the country (that being South Africa), with all the return documentation completed for the on-shipping to the laboratory in the United States.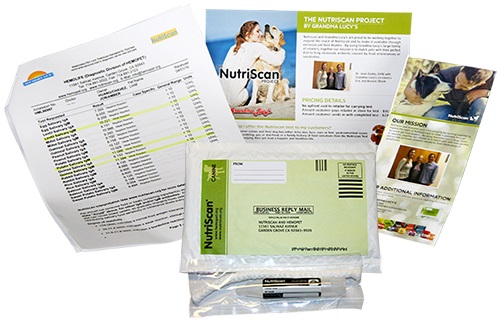 The test kit contains:
1 cotton rope
1 plastic tube
Customer info & letters
Envelopes
Detailed instructions
The fee associated with the test kit include the on-shipping to the United States and the laboratory testing.

The Collection Process
| Step | Instruction | |
| --- | --- | --- |
| 1. | You should fast your pet overnight before testing. | |
| 2. | Fill out the Pet ID in detail on the Outer Tube and the Test Request From before you start. | |
| 3. | Place the cotton rope in your pet's mouth at the corner of the jaw and allow your pet to chew on it for approximately 2 minutes. Hold the free end firmly, as demonstrated above. If needed, present your fur kid with a treat but DO NOT feed. This will promote salivation. | |
| 4. | Now insert the wet end of the cotton rope into the Inner Tube. Cut the rope end so that the rope fits nearly into the Inner Tube. You can discard the cut-off portion. | |
| 5. | Place the cap securely on the Outer Tube and tape shut. | |
| 6. | Place the filled tube in the NutriScan prepaid envelope along with the completed Test Request Form. Place this in the box / plastic sleeve we supplied, and notify us so that we can arrange the courier for collection. | |
Please Note: Return mailing to Hemopet needs to be in a protected package or envelope. No refrigeration is necessary, and the saliva sample is viable for up to 30 days; however we do recommend that the sample should arrive at Hemopet within 10 days of being taken.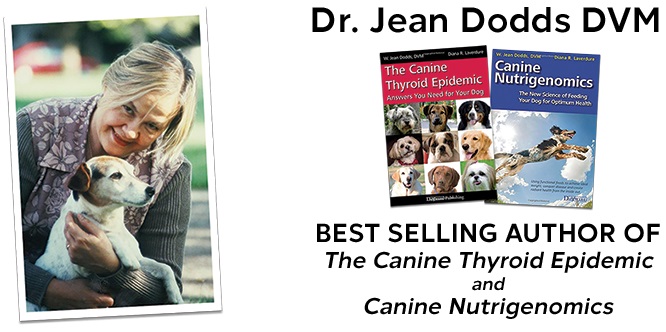 Dr. Jean Dodds, DVM, a veterinarian for 50 years, has a worldwide reputation for being at the forefront of veterinary science, clinical research and animal welfare; she has 25 patents, and has authored numerous scientific papers, book chapters and two books. She moved from up-state NY to southern California in 1986 to start Hemopet, the first non-profit national animal blood bank. Today, Hemopet's range of nonprofit services also include specialized diagnostic testing; consulting in clinical pathology; and teaching for animal health care professionals, kennel clubs, and pet owners on a variety of subjects including nutrition and holistic medicine. Her drive to help pet parents identify their pet's food sensitives is what lead to her invention of the Nutriscan diagnostic test.
Read more about [Nutriscan],[Hemopet] and [Hemolife] Diagnostics [here].
---
Showing 1 to 2 of 2 (1 Pages)